Apartment searches follow a seasonal trend, providing more abundant listings starting in January and continuing their momentum, increasing in abundance through the summer, peaking in July. Actual moves increase in March and dramatically peak in August (just prior to school starting), and the end of summer. Rental prices also follow a seasonal trend, lagging move-ins, tending to peak in late summer/early fall before cooling in the winter months. Seasonality has a significant influence on the rental market, not only impacting rental growth, but influencing the daily decisions of property managers and leasing agents on setting rental rates.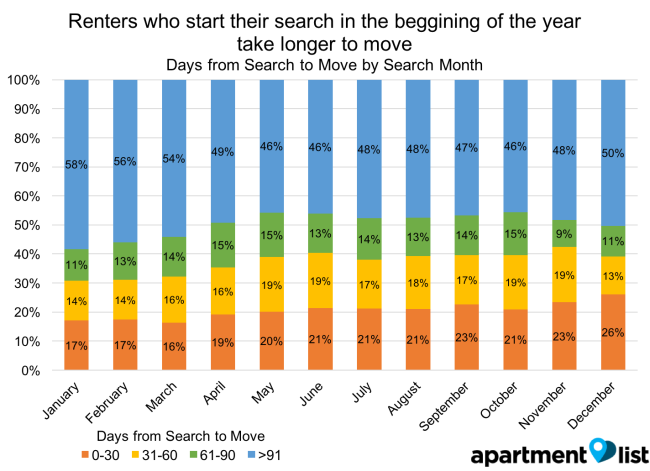 Summer is the most popular time of year to move for a few reasons. First, the fall is a common time to start new jobs, both for recent college graduates and those making a career switch. Second, renter families often wait to move until the summer to avoid moving school districts mid-year. Third, moving in summer is more practical in many locations. In a cold, snowy city, such as Minneapolis or Chicago, moving in winter can be logistically challenging. Icy roads could cause movers to cancel, and snowstorms can delay entire moves. Additionally, most renters prefer not to move over the holidays, a time of year filled with out-of-town guests and vacations. As you'd expect, rent prices follow the laws of supply and demand. Rents increase during spring and summer as demand increases (more renters are looking to move) and as supply becomes constrained (vacancies are filled by all the movers), before slowing in the fall through early-winter as demand tempers.
For renters with some flexibility, December or January are the best times to move. Rent prices tend to plateau or decline, offering cheaper rents then at other times of the year. With fewer renters hunting for apartments, landlords may be willing to offer better deals to avoid having a vacant apartment during the winter. The risk of moving in winter is that with fewer units opening up, the selection is more limited than during the summer months.
Excerpts from article by Sydney Bennett,
Senior Research Associate at Apartment List
February 6, 2018